---
No1ToRunWith - 3/20/2008 at 02:28 PM

Hopefully Susea and I can get the Peacheaters to do another Parking Lot Jam. The last one was great and we had a large turn out. Here is something I threw together to get the ball rolling.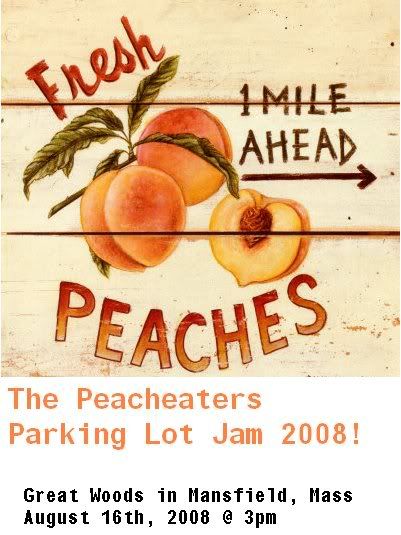 ---
lolasdeb - 3/20/2008 at 09:24 PM

Love the poster, Eric!
---
alec - 3/28/2008 at 05:13 PM

Eric, I want to use that poster for some of our other gigs, would you mind? If you can email it to me at alecdrums@hotmail.com

thanks a million and i'll make sure you get credit for it.
---
soulshinedaddy - 8/16/2008 at 07:09 PM

Great Poster Eric I want one How Much? TShirts 2XX Please...Enjoy the Show, will be in Camden NJ on 8/23/08...Yeah Boy...Yeeee HAAAAA..... Franko...
---