---
shermo - 12/9/2014 at 12:47 PM

that was taken the final night at end of show, taken from back of the stage, looking out over the band who are front-and-center, and with the crowd behind them? I saw it in one of the posts here a day or two after the final show, but am having trouble finding it now. Would make a nice Christmas gift!

Thanks
---
ABB1973Mike - 12/9/2014 at 01:51 PM

You mean this one?

http://www.allmanbrothersband.com/modules.php?op=modload&name=XForum&am p;file=viewthread&tid=137366

Mike
---
shermo - 12/9/2014 at 09:40 PM

Maybe I'm imaging it but I thought there was a picture like the 2nd one on the link you shared, but the brothers were facing out towards the crowd with the photo taken from behind them? Anyway, these two pics on that link are great as well. Thanks.

---
fanfrom-71 - 12/15/2014 at 02:57 PM

This one?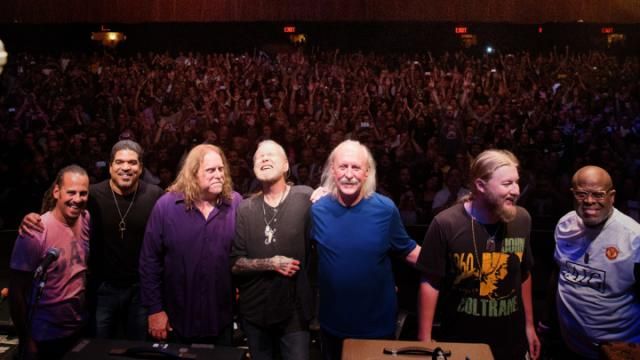 ---
mikesolo - 12/16/2014 at 08:56 PM

Danny Clinch took the photo. It is expensive, but one heck of a great moment in rock and roll, ABB history! The actual phot shows the entire audience up through the upper balc which increases the coolness from the cropped Rolling Stone version.

http://www.dannyclinch.com/

[Edited on 12/16/2014 by mikesolo]
---